To use the Veonics Portal, users must have a valid account. A temporary password is provided and must be reset.
Table of Contents
New Portal Users
Step 1: Request log-in from eXpress badging

For new users, eXpress badging will provide a username and temporary password once your Veonics® Portal account has been created
• You must provide authorized log-in approval
Step 2: New User Email

• Once the New User email from noreply@veonics.com is received, proceed to log in:
• https://portal.veonics.com/login.php
Step 3: Log-in Instructions
"Copy and Paste" your username into the Username field
"Copy and Paste" the temporary password into the Password field
Select the Login icon


For first-time users, you must read and accept the terms of use statement
Otherwise, you will not be granted access
Users are directly taken to the Setting Password page
Step 4: Setting Password

Once logged in, you should be directed to the Account page and tab, if not, mouse over the cog in the upper right corner and select My Account
"Paste" in the temporary password in the Current Password field
Then enter a new password in the New Password field and duplicate it in the Confirm Password field
The password requires a minimum of 12 characters, with at least one of each


Upper case
Lower case
Number
Special character

Select "Save" once completed
You can now log in using your new credentials. If your password is not working, please review our Password Reset article.
Two Factor Authentication
Two-Factor Setup

Select two-factor authentication if you or your organization requires it.


When selected, the above additional page will pop up with additional instructions.
Only select and follow the instructions below if using an authenticator application on your mobile device
Enabling two-factor authentication greatly increases the security of your account.

BARCODE INSTRUCTIONS:

OPEN YOUR AUTHENTICATOR APP AND ENABLE SCAN MODE

Authenticator (C) Google 2010 app is recommended
Found on the app store

Scan the Veonics Portal displayed bar code on your device to record the authorization code

This is the only time this code will be displayed
If the code does not work or the app is removed from your device, you will need to ask your administrator to reset your password, which will clear the two-factor authentication

Select "Save" once completed
Logging in with Two-Factor Authentication enabled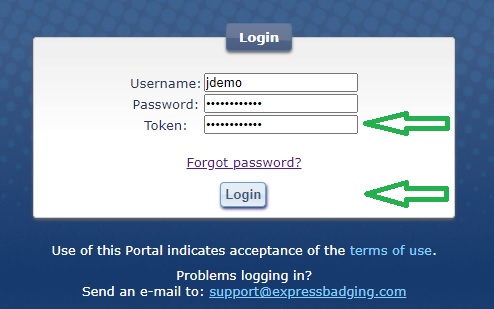 After entering the username and password, an additional Token box will appear
Open the associated authenticator app used in the setup stage above
Enter the displayed "Photo Capture Code" on the app in the Veonics Portal Token field and select Login.
Repeat this step for every login.

You can increase the Veonics Portals Default Session Length (auto logoff-after time) by mousing over the cog in the upper right corner, selecting My Account
Select the Options tab and increase the Default Session Length in minutes
It is recommended to increase the Default List Length to 100 or more to see more card records on a single screen.
Disabling Two-Factor
Login using the steps above
Once logged in, mouse over the cog in the upper right corner and select My Account
Deselect the Two-Factor Authentication Enabled box, and select the Save icon

If your authenticator app stops working, or if not set up correctly, request a password reset and start over or continue without two-factor authentication.