The Veonics® Portal is a hosted photo ID management software deployed commercially in 2015. Some additional uniques are: remote photo capture, mobile displayed Veonics Virtual ID™, printer agnostic, and data integration functions.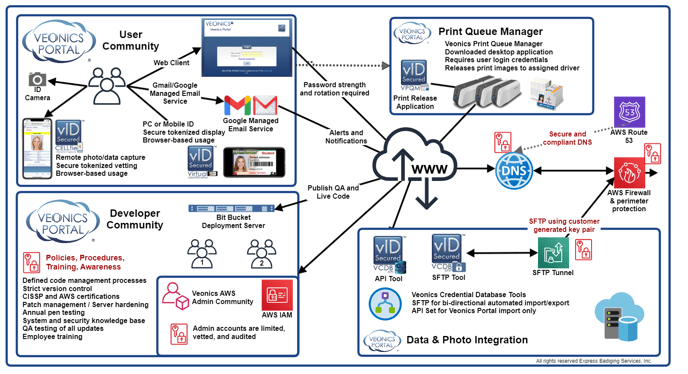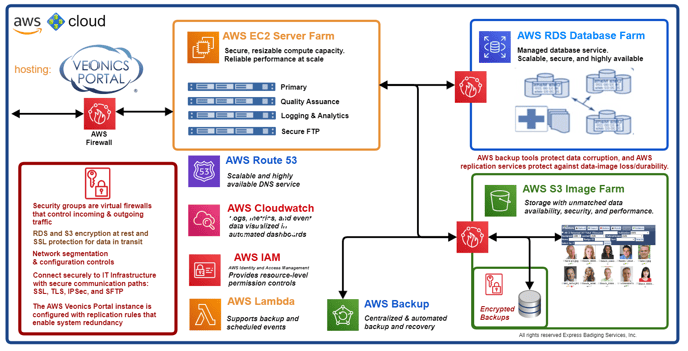 Table of Contents
A Little History
eXpress badging® uses the Veonics® Portal to print hundreds of thousands of badges for our customers annually. We also have a SaaS (software as a service) customer base that purchases annual licenses to print badges on their premises. We currently have a growing customer base of Veonics Virtual ID customers who only use mobile-displayed photo ID cards.
In our driven efforts to create a mobile device displayed Veonics Virtual ID, eXpress badging built a hosted photo ID management software solution with several features in mind:
An architecture that securely manages many organizations and users

Enabled with a powerful MySQL database, allowing for definable fields and attributes

Capture badge photos remotely using a secure email process that does not require the recipient's login credentials
The ability to capture, crop, and store badge photos one at a time or in batches
Print a photo ID badge using off-the-self badge printers
A powerful badge template design tool based on customer-provided badge designs
Data-integrated features to connect with the customer's source database(s)
Time Line
2011 - "WEB-IT" - Hosted identity management PowerPoint presented to Veonics, LLC Board of Directors
2012 - THE SPARK - Go mobile or go out of business
2013 - 6Ds MAPPING - The start of the Veonics Portal source code
2014 - ALPHA/BETA BUILD - Playground full of cool browser-based ID management tools
2015 - CUSTOMER ONBOARDING - Migrated eXpress badging contract badging customers and onboarded the first annual Veonics Portal customer
2016 - OEM Transfer of Ownership TOO PROSPECTING - The market was not ready yet, but the Veonics Portal was a great fit for eXpress badging
2017 - OEM NOT VIABLE - Veonics Partners moved into Federal space, while eXpress badging saw the viability
2018 - EB TOO - eXpress badging contracted with Veonics Partners, the purchase and Transfer of Ownership of the Veonics Portal source code
2019 - eB PATH TO VIABILITY - The Veonics Portal growth continued with large "Corporate 1000" rebadges, leading the path to viability
2020 - STABILITY AND RIO - The market shift to hosted ID management begun
2021 - TOO COMPLETION - eXpress badging became the sole owner of the Veonics Portal source code
Veonics Portal Three Solutions:
Veonics Portal ID Hosted ID Management Software (PORTAL)
A user interface designed to manage badge data, capture photos, generate virtual ID cards, and send badge print jobs to printer queues.
Veonics Portal Print Queue Manager (VPQM)
A lightweight desktop downloaded applet that is user credential accessed and used to release print jobs to local printers.
Veonics Credential Database (VCDB)
Our API or SFTP data integration feature is designed to populate the Veonics Portal from a customer's source database.
AWS Web Services, Data, Photo Server Configuration, and Encryption:
AWS RDS Data Server: Encrypted at Rest
The Veonics Portal uses managed database services through Amazon Web Services (AWS); specifically, their enterprise RDS Servicer which provides redundancy/fast performance/security/high availability. Details of RDS security features are explained here: https://aws.amazon.com/rds/details/#security
Amazon RDS allows the Veonics Portal to encrypt databases using Key Management Services (KMS). Veonics Portal data is encrypted at rest.
AWS S3 Photo Server: Encrypted at Rest with no open/published link to the associated data record
Photo files are stored on a separate AWS S3 Server, and we format the photos files so there is no direct link to the related ID record.
EC2 Server
All web services (web application components: examples WSDL, SOAP, RDF, and RSS) are stored and managed on a third Amazon EC2 Server, further firewalling the ability of breached access functionality.
Load Balancing
The Veonics Portal can automate load balancing when needed. Currently, it is not enabled, as we have plenty of capacity, and it is monitored as needed.