The Home page is the default page of the Veonics® Portal. Adding Portlets to your Home screen will provide instant reporting metrics. Some Portlets require assigned User Rights before they can be enabled.
Listed below are the available Veonics Portal Portlets and their description.
Table Of Contents
NOT ENABLED AT THIS TIME

News
Metrics Monitor
vPQM (Print Queue Manager)
Quota Monitor
Home Page with Portets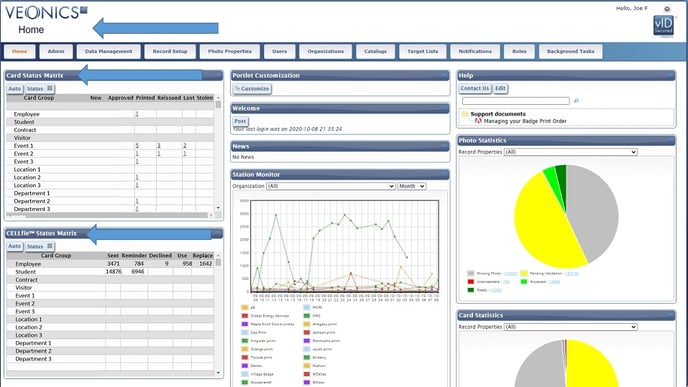 Portlet Customization
Here is where you can customize your Home page to provide data in a fast and usable format.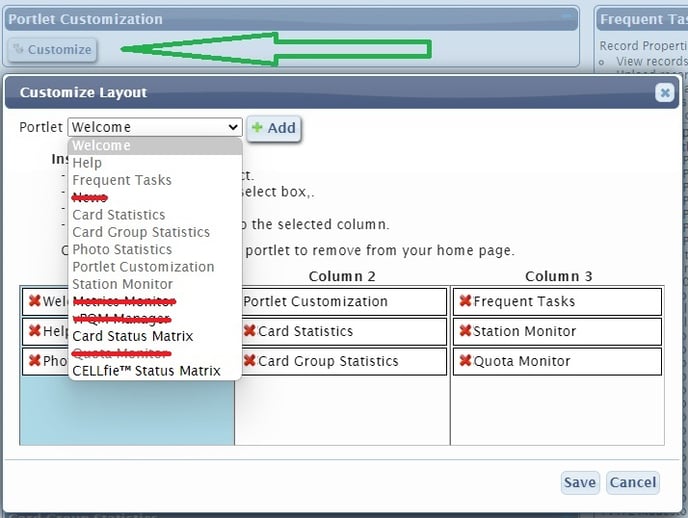 Start by selecting the Customise icon
Select one of the three columns by left-clicking in the space
From the Portlet drop-down, select a Portlet
Select the Add icon to place it in the column.
Save once completed to view the Portlets on your Home page.

Below is a breakdown of each Portlet.
PORTLET REVIEW
Welcome
Post Icon and Messages
The Welcome Portlet screen will display notes that are Posted via the Post Icon. This feature is primarily accessed and used by Super Administrators to share relevant content. The Post feature must be requested to be enabled. Once a user removes a message by selecting the X in the message, it will no longer be displayed. Posted messages can not be edited after submission.

Creating a Post Message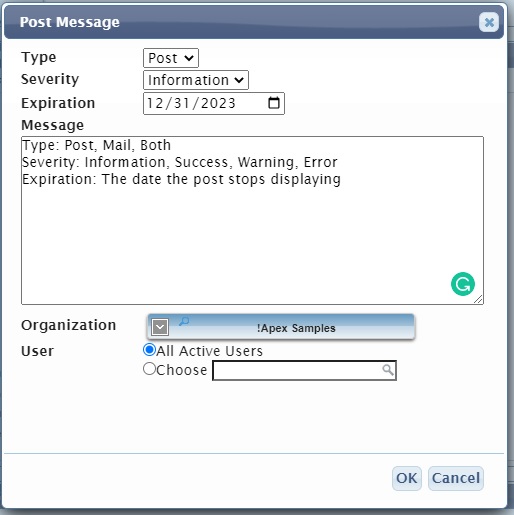 Type:

Post

Will create a Post Message that is displayed by selected users until closed out

Mail

Will generate an email to selected users upon selecting OK
Double-check grammar and content before selecting OK

Both

Will Post the Message and send an email to selected users

Severity:
This is a quick way to communicate the Post message intent


Information - general user information
Success - share a people or process success story
Warning - share a badging concern that must be addressed ASAP
Error - share a known/found error

Expiration:

The date the post stops displaying
This date cannot be edited once OK is selected

Organization:

Only Viewable within the Organization's hierarchy

User:

Select All Active Users for all to see within the Organization's hierarchy
Select Choose, and start typing User Name to select, repeat for multiple users

Correction Process:

If a Post Information and/or Email was processed

"Please ignore the previous Post, Email, or Both by selecting the X to remove the original Post, delete the associated email, and replace it/them with this posted content. We apologize for any inconvenience"
Help
Contact Us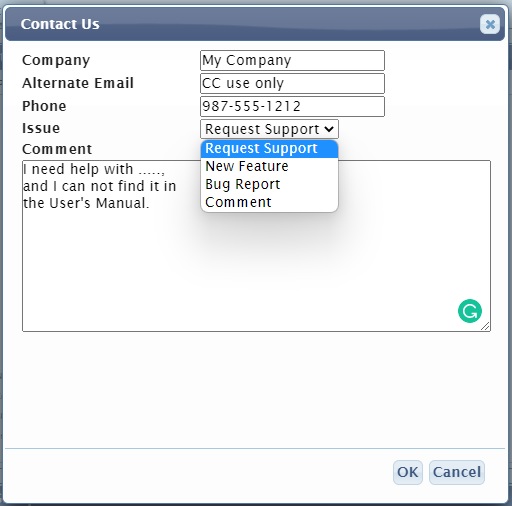 After searching and not finding your answer in our Veonics Portal Users Manual, the best way to communicate an issue is to submit it here so our technical support team can assist.
Edit
The Edit feature is used to create Help content. Currently, this feature is disabled.
Frequent Tasks
Here you'll find applicable Frequent Tasks for the selected Record Property.

View records without photo


This will display all Card Records without a photo
Quickly search/link Records to existing photos or uploaded them for approval when applicable

Upload records to a batch


Opens the Import Records tool, which requires an Import Data Definition to be defined and selected before selecting a File to upload

Verify standards for photos


Opens the Photo Management page for the assigned Record Properties
Here you can correct linked Photos for Crop/Validation (Approval)

Approve designs
Start a card order
News
Deprecated Software feature and no longer available
Card Statistics
Get quick statistics regarding Card Record Status and Photo Status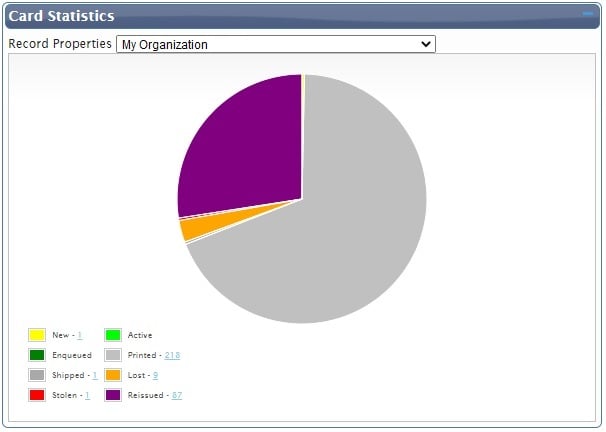 New - (Number and Hyperlink of associated Card Records)


Records that have not been approved and Active for printing

Status = Yellow Star

AND/OR

Photo =Yellow X (Missing Photo) or Gray Check (Pending Validation)

Active -


Records in an approved state

Status = Green Check (Approved)

AND

Photo = Green Check (Accepted)

Enqueued -

Cards Records marked for printing

Printed -

Card Records printed

Shipped - Is rarely used

Requires manual status update

Lost -

Requires manual status update

Stolen -

Requires manual status update

Reissued -

Inactive Card Records that have been Reissued and most likely printed
Card Group (Record Properties) Statistics
Quick access to all New and Ready (activated) Record Properties. Alternately known as Card Groups.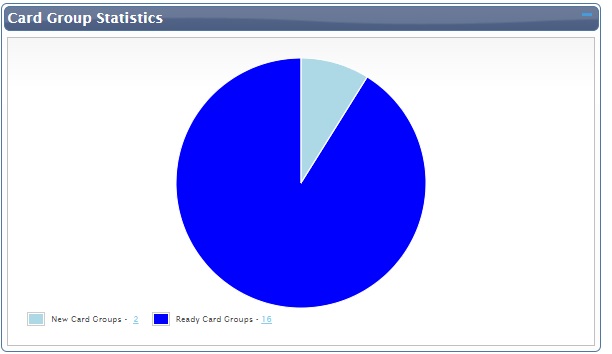 New Card Groups

Record Properties pending activation

Ready Card Groups

Record Properties that are in an active status
Photo Statistics
Quick access to all Photos assigned to selected Record Properties.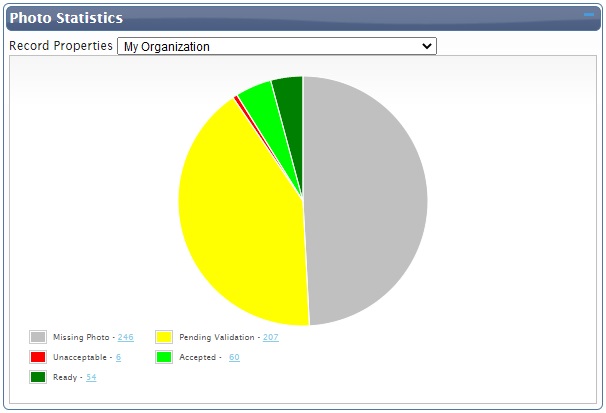 Missing Photo - 246 (Number and Hyperlink of associated Card Records)

The number of Card Records missing photos

Pending Validation - 207


Photo = Gray Check

Unacceptable - 6


Photo = Red X

Accepted - 60

Photo = Green Check

Ready - 54

Photo = Green Check

AND

Status = Green Check
Station Monitor
The Veonics Print Queue Manager Station Monitor provides a snapshot of print volume by week, month, quarter, and year per Print Location.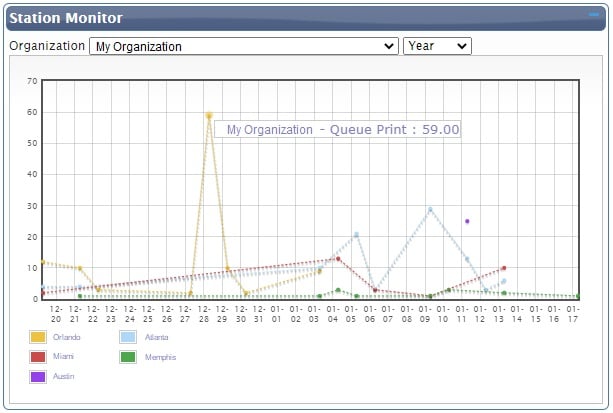 Metrics Monitor
vPQM (Print Queue Manager)
Card Status Matrix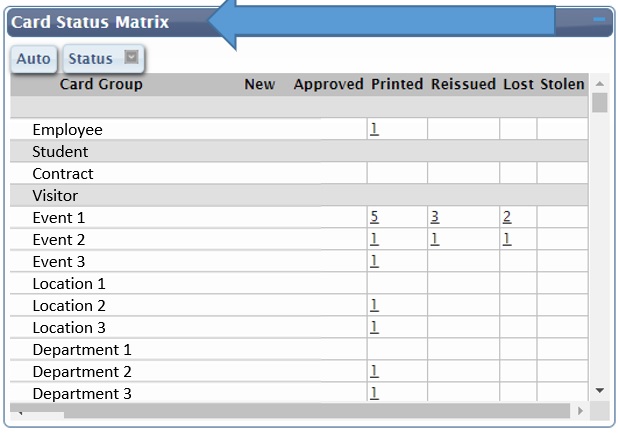 Quota Monitor
- (not enabled)
CELLfie Status Matrix